Solo Artist Nick Fisher combines the flair and vision of his song-writing skills with superlative musicianship that he brings to his exemplary live performances. Songs written with veracity, powerfully delivered with carefully layered harmonies over a contemporary acoustic sound that offers a delicate balance of complexity and melody. His lyrics are challenging with a thoughtful introspection that is lifted and enhanced with a clear self-awareness and wit. These lyrics are affirmed with the strength of Nick's vocals giving each song an engaging sincerity.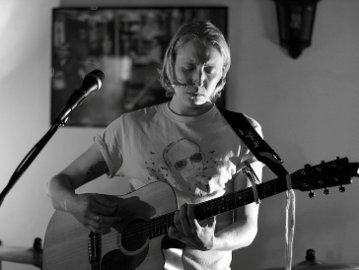 As a singer/songwriter, Nick's influences include Idlewild, Wintersleep, Midlake, Kurt Vile,Benjamin Francis Leftwich, Jose Gonzales, Fink, Band of Horses, Local Natives, Frank Turner, Father John Misty and Nathaniel Rateliff amongst many others. A strong range of influences married together through his love for music, helping him to develop his own sounds with care and integrity.
Nick is a classically trained guitarist and his compositions reflect this with these finely tuned skills giving his sound a unique edge – his home recordings have been described as "pieces of lo-fi magic". Nick has gathered invaluable experience of the music industry when his previous band was signed leading to tours of the UK and Europe including top venues such as Carling Academies. Now a solo artist, Nick has been able to embrace his creative talents and benefit from the artistic freedom that comes with it. This brooding acoustic solo work has attracted glowing critical acclaim and confirmed Nick Fisher as a brilliant performer and songwriter.
Cath Aubergine of the Fat Out Festival, Manchester 2011 was struck by Nick's performance; "It soon becomes apparent Nick Fisher is something pretty special. From the unlikely environs of Milton Keynes, his songs sound like they were instead hewn in a log cabin or something in darkest winter. Powerfully delivered, too, with strength and volume used effectively between quieter brooding moments."

Having followed Nick's first forays as a solo artist, Chumkee Banjeree of Mudkiss.com Fanzine has been struck by his work; "Having reviewed Nick's 'Regression and Progression' demo last October, melodically engaging, delicately instrumented songs with New Age feel, altruistically released into ether by home recording technology, I wondered how newly fledged bird fared since first flights. Though 'Pipe Dream' has lost its fluffy down of innocent wonderment and tentative optimism, it soars and rides jet streams on more confidently muscular wings which, as well as acquiring a dose of vocal cynicism, supplements acoustic guitar, now vigorously strummed, with bass, drums, sharp handclaps and keyboard, harder, feistier sound, though still kissed by vestigial contrails of Aquarius mist, wisps of originality which I hope do not evaporate in determined flight towards burning sun."

With his sound developing in confidence and clarity, Nick promises to leave his audiences reeling with a powerful and engaging set.